VME 2023: Embracing Hyperconnectivity Of Manufacturing Innovation
Vietnam Manufacturing Expo is held in Hanoi International Exhibition Center Hanoi on 9 to 11 August 2023 showing the companies news of Vietnam and internationals related to sectors Engineering, Testing, Handling, Automation, Industrial engineering, Car parts, Machine-tools.
This year, VME will be displaying the latest machineries and technologies for manufacturing and supporting industries by 200 brands from 20 leading technology countries including Japan, Korea, China, Taiwan, Thailand and others; together with the participation of more than 200 international booths and many leading companies in Vietnam as well as the inaugural launch of the Fastener Fair Vietnam Pavilion and ViMAT – Vietnam Material Handling Exhibition Pavilion.
The exhibition closed successfully and was warmly welcomed by 9,236 manufacturing industrialists across Vietnam and overseas, all of whom came to discover leading-edge technologies they desired, (assembly) automation, metrology, metalworking solutions and other industrial components/subcontracting for the supporting industries.
>> Read more: Aluminum Dominates In Industrial Uses
VME 2023 will create business opportunities for both Global brands and Small and Mediumsized Enterprises to do business with multinational companies via connecting and supporting activities during show days. Also, the exhibition will be the industry's connecting hub where over 10,000 Industrial part-making factory owners, engineers and industrialists can gather to discover new solutions and partners via special activities offered at exhibitor's booths.
KIMSEN was also there demonstrating the best of our products to visitor including Aluminum Extrusion, Die Cast, Stamped, Forged, CNC Machined Parts and Components & Assemblies in Vietnam by international standards.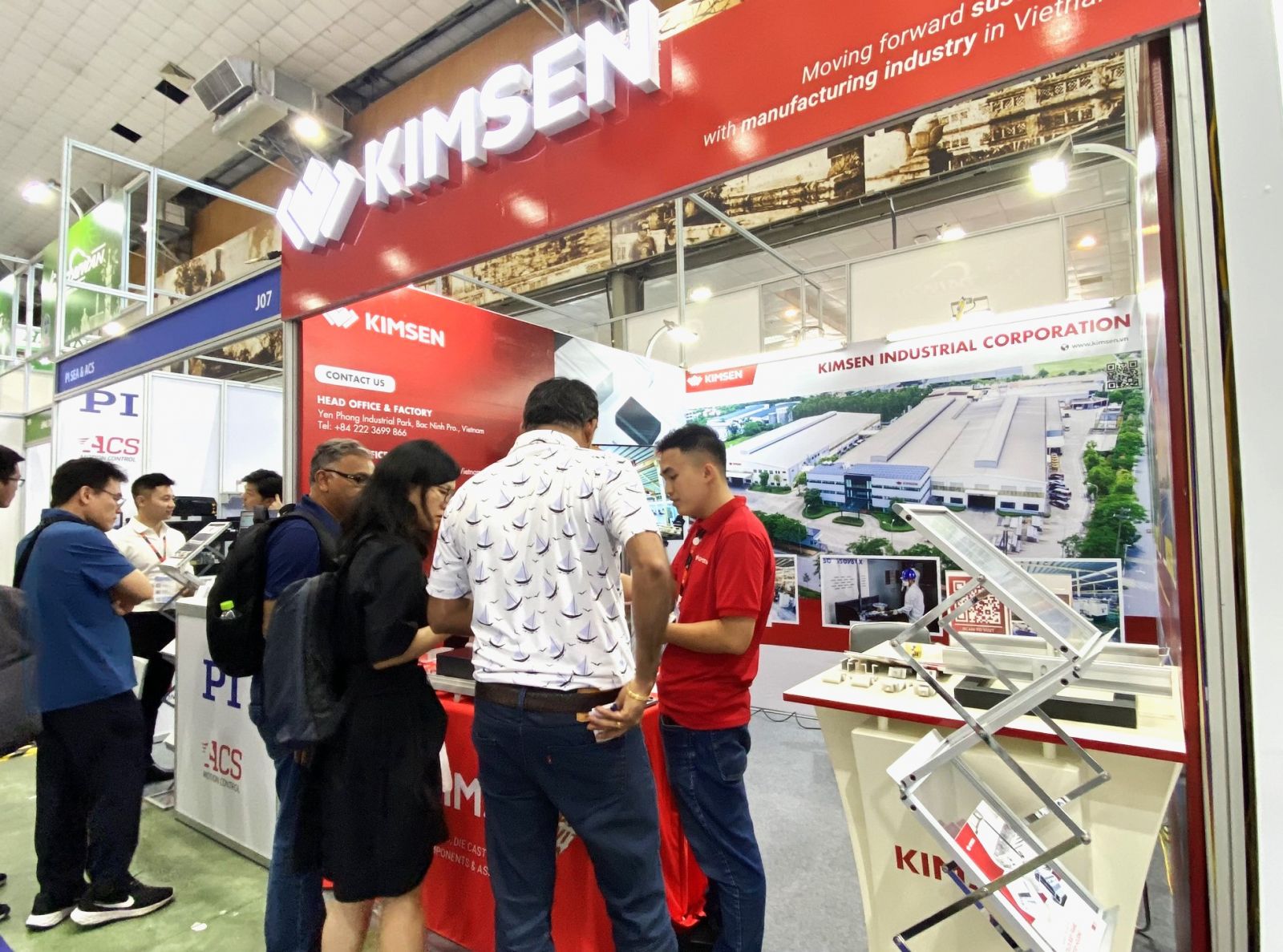 KIMSEN Aluminum would like to thank our valued customers and businesses for visiting our booth and spending time to pay attention to the products and services that KIMSEN provides. In the future, KIMSEN looks forward to accompanying you to bring the maximum benefits of cooperation between the two sides.
Let's take a look of our booth in VME 2023: