5 Reasons Why Aluminium Extrusion Profiles Are Perfect For LED Lighting
Everyone needs light. We also need to save energy. Both are satisfied by Efficient LED lighting illumination. This is 5 Reasons Why Aluminium Extrusion Profiles Are Perfect For LED Lighting

LED Lighting
Durable, efficient, resistant, and flexible
LEDs are extremely efficient in terms of energy consumption. They use as little as 10% of the energy needed for conventional lighting.
In comparison, LEDs also have an exceptionally long service life. While their real-life expectancy depends partly on color and application, they tend to last for approximately 50,000 hours – or 5.7 years – on average. This reduces your maintenance requirements and limits operational downtime.
Furthermore, an LED has no components that are subject to mechanical stress. This makes LEDs suitable for use in critical areas, again guaranteeing low maintenance costs, as well as for use in environments with strong vibrations or other mechanical stress.
>> Read more: What is Ductility in Metals, and Why is it an Advantage of Aluminum?
Aesthetic, functional, and thermal power
Extruded aluminium products have an important place in luminaires and accessories in the LED market. The light metal itself is easy to machine and is corrosion resistant. It also provides aesthetic benefits.
The extrusion process offers many possibilities regarding geometries and to integrating functions such as clips, screw channels or slide-in compartments. Aluminium's high thermal conductivity also allows heat sinks to be integrated.
With the help of surface finishes, such as anodizing, powder coating, blasting, brushing, or polishing, you have the ability to adjust the appearance of the luminaires to support the colorful fusion between the luminaire and the room situation.
Applications for LED luminaires
Aluminium profiles can be used for a variety of applications in LED luminaires. Clip connections allow them to be easily connected to other profiles or to diffusers, power strips and the like. In addition, the profiles can be mechanically processed and, in some cases, assembled and mounted.
This results in numerous possibilities for the individual design and use of LED lights in:
LED strips
Circular luminaires
Floor and desk luminaires
Industrial lighting
Stadium lighting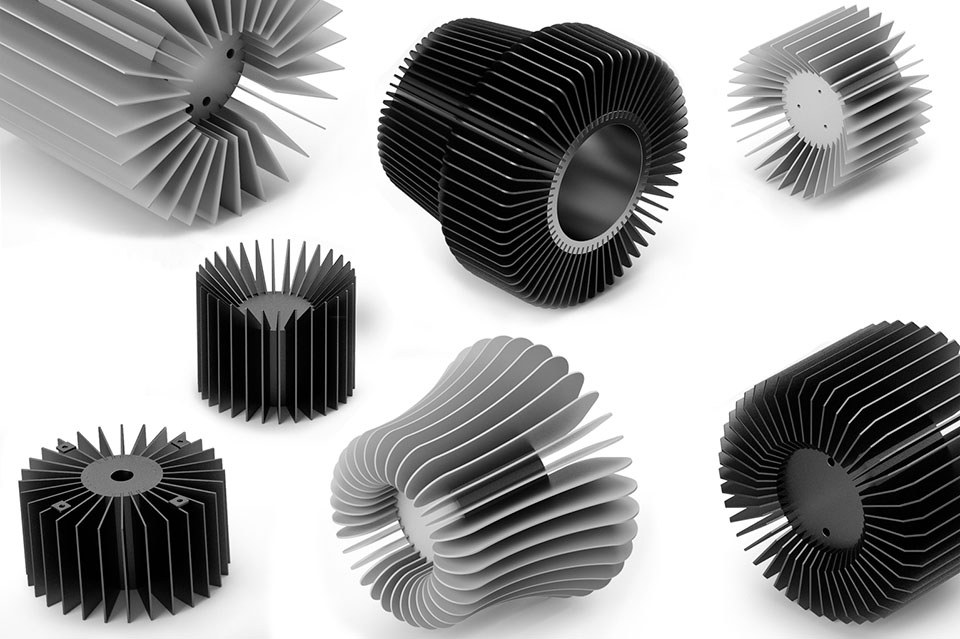 Extruded aluminium profiles for LED lighting
More sustainable lighting solutions
Modern lighting systems consume little energy, conserve natural resources, are largely recyclable and save costs. Aluminium contributes as a sustainable material that can be recycled and reused over and over again, with minimal energy requirements and without the loss of its material properties.
With every kilowatt hour of electricity saved through the use of LED luminaires, carbon dioxide emissions decrease. You can also reduce emissions by using our low-carbon aluminium, which has a footprint of 4 kg of CO2 per kg of aluminium – one-fourth of the global average.
Circular products for LED ranges
We consider the recyclability of LED luminaires during your product development phase. Replaceable components simplify repair and extend the service life of the lighting system.
By incorporating circular principles in your design, we can reduce resource use, making aluminium ideal for your LED lighting solution.